Nana Mizuki Receives Special Award From Agency For Cultural Affairs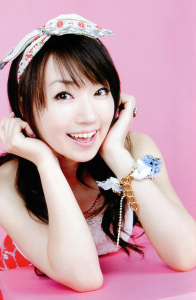 On March 13, 2014, the Agency For Cultural Affairs division of the Japanese government has announced the lucky recipients of the Minister of Education Award for Fine Arts 2013 and among them is none other than Nana Mizuki (水樹 奈々) who proudly takes home the new face award. Nana bagged the award, together with 10 other individuals, after her endeavors which include her undying dedication to Cool Japan, singing and voice acting for anime as well as her successful foreign tour.
Born as Nana Kondo (近藤 奈々), Nana Mizuki rose to fame in 1998 with an image song entitled Girl's Age under the screen name of Chisato Kadokura. She was trained in the art of enka at the tender age of 5 and look at where she is now! Nana Mizuki's first voice acting job started when she was chosen to voice Sora Yamato (大和ソラ) from Time Detective Flint (時空探偵ゲンシクン) in the same year she made her debut as Chisato Kadokura. Other notable characters she has provided the voices for go as follows:
Saya from Shin Hakkenden (神八剣伝)
Hinata Hyuga (日向ヒナタ) from Naruto (ナルト), Naruto Shippuden (-ナルト- 疾風伝) and Naruto SD: Rock Lee & His Ninja Pals (-ナルト- SD ロック・リーの青春フルパワー忍伝)
Nyamo Namo (ニャモ・ナーモ) from Love Hina (ラブ ひな)
Ren Hakuei (練 白瑛) from Magi: The Labyrinth of Magic (マギ) and Magi: The Kingdom of Magic (マギ)
Saya Kisaragi (更衣 小夜) from Blood-C
Congratulations, Nana!