Mobile Suit Gundam AGE Ends On September 23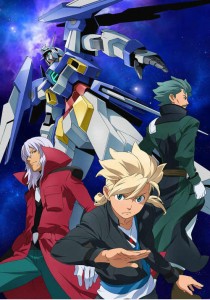 As announced on the October issue of the Gundam ACE magazine, Mobile Suit Gundam AGE ( 機動戦士ガンダムAGE) will be singing its swan song on September 23, 2012. The final episode will be the 49th of the series.
Mobile Suit Gundam AGE is the 12th entry of the Gundam franchise and is the offspring of the partnership between Japanese animation studio Sunrise (株式会社サンライズ) and video game developer and publisher, Level-5 Inc. (株式会社レベルファイブ). Gundam AGE was first aired in Japan on October 9, 2011 and was simultaneously broadcasted over the official Bandai video portal, Gundam.info, with several language subtitles including English and traditional and simplified Chinese. June 16, 2012 was the day when AGE was broadcasted overseas, and with an English dub to boot, over Singapore's Okto Channel.
AGE is set during the " One hundred year war" where mankind has fled into space colonies and the war on Earth has ended. Flit Asuno (フリット・アスノ) was plagued by the attack of Unknown Enemies in his childhood. Before she gave her dying breath, Flit's mother hands him the Asuno family heirloom, the AGE Device Unit. With the AGE Device Unit in his hands, Flit develops the human race's only hope: Mobile Suit Gundams.
Don't miss the final episode of Mobile Suit Gundam AGE! Thinking of going into an AGE marathon before the grand finale? Check out the first episode below to get your marathon started.
http://youtu.be/N8O8S8C0ZOM