Mikasa Ackerman Voice Actress Joins In Latest Lupin III Offering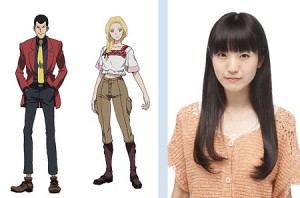 What do you get when a master thief runs into a pirate girl? Let Monkey Punch's (モンキー・パンチ) Lupin III (ルパン三世) steal your full and undivided attention with this news! On September 2013, a new one-shot TV special entitled Lupin the Third: Princess of the Breeze ~Hidden City in the Air~. Princess of the Breeze is the 24th entry in the Lupin III TV specials and features not one, but two, special news and announcements that will certainly keep fans on their toes.
First up is that Lupin has finally hit the gym! The new Lupin has lost his former Slim Jim look and has looked more muscular than his previous designs. Joining him on his Hidden City escapades are his partners-in-crime, sharpshooter Daisuke Jigen (次元 大介) and renegade samurai Ishikawa Goemon XIII (石川 五ェ門). Inspector Koichi Zenigata (銭形 幸一), who is perpetually hot on Lupin's heels, will be running pell-mell after the elusive Lupin in this latest TV special. Fujiko Mine (峰 不二子) just might be around the corner waiting to pounce on the haplessly in-love Lupin.
A new character will make an appearance in this TV special and she will be voiced by none other than Yui Ishikawa (石川 由依). If you don't know Yui Ishikawa, you don't know Mikasa Ackerman (ミカサ・アッカーマン) from Shingeki no Kyojin (進撃の巨人). Ishikawa will be lending her voice to pirate girl Yutika. What adventures hold for Lupin and his gang in the Hidden City in the Air? Will Yutika be a friend of foe? Will Zenigata finally bring home the bacon and capture Lupin once and for all? Hold on to your hats and watch Lupin the Third: Princess of the Breeze ~Hidden City in the Air~ this September only on NTV!