Mewtwo-Like Pokemon Makes An Appearance In Pokemon X And Y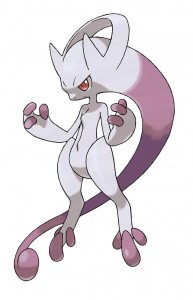 Pokemon X and Y have been revealing their legendary Pokemon that's set to make an appearance in either version of the games little by little. Here's another addition to their reveal list that Pokemon fans certainly will find very familiar.
Looks like Mewtwo (ミュウツー), right? The Pokemon Company has left fans hanging at the question if whether this is Mewtwo or not. However, Pokemon Company did say that the two Pokemon bear a huge similarity with each other.
The official Pokemon Youtube channel has shown a preview of the said white-and-purple Pokemon only recently. The video, which runs for 39 seconds long, shows the Pokemon in a 360 degree view. It is then followed by a short exhibition of the skills it can do.
For Pokemon newbies, Mewtwo is perhaps the most celebrated legendary Pokemon. Having starred in the first ever Pokemon movie, Mewtwo is the most powerful Pokemon, base stats-wise. This psychic Pokemon first appeared as the 150th entry of the original Kanto Dex.
So, what do you think this Pokemon is? Is it another Mewtwo incarnation or is it in itself a different breed of Pokemon? Stay tuned to find out more! In the mean time, check out the video below so you can have a sneak peak of this Mewtwo-like Pokemon.
Pokemon X and Y is scheduled for release worldwide on October 2013.