Marvel VS Capcom: Official Complete Works Released By UDON Entertainment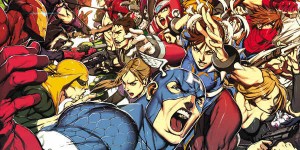 Hardcore gamers and comic book fans are in for a treat with the latest UDON Entertainment offering!
Marvel VS Capcom: Official Complete Works is a compilation of every art work made in the history of the Marvel VS Capcom video game series. This special art book nearly took 20 years for it to come into completion. This feast for the eyes art collection will include official art and sketches starting from the 1993 The Punisher game up to the latest game, the Ultimate Marvel VS Capcom 3. The book also includes special bonus material that the fans will surely enjoy.
The Marvel VS Capcom is a video game franchise by Capcom in which characters from the Capcom franchise meet head on with the super heroes from the Marvel universe. Fans have the choice either to play as Street Fighter's Ryu or Marvel's Captain America.
Another fact that fans will appreciate is that UDON Entertainment is behind the project. UDON Entertainment is a highly celebrated publishing company and is famous for their comic book adaptations of famous video games. Their books do not end on English comic books alone, they also offer Japanese Manga and other art books.
A special limited edition of the Marvel VS Capcom: Official Complete Works will be released at the Comic-Con International: San Diego on July 11, 2012. The special edition is a hardbound copy and will not be sold anywhere else. The hardbound edition comes with a beautiful cover and only 200 of these copies will be released. Each copy will be sold at USD 100.
The softcover edition will be released on 20th November 2012 at a price of USD 44.99.