Manga Inspires School Girls To Vandalize Their School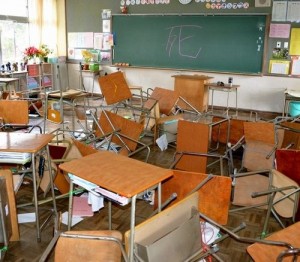 See this photo on the left? Would you believe that a pair of 13-year-old girls did this? That's what the police in Odawara City, Kanagawa Prefecture announced on May 1, 2013.
According to police reports, the girls sneaked inside their campus and broke through a window in the first floor to get inside using a rake on February 4, 2013, just 3 two months ago, between 9:00 to 11:00 PM. The girls then went to the fourth floor of their building, opened all the faucets and left the waters to run. To make matters worse, they overturned chairs and even threw some out the window. Completing their act of vandalism, the girls wrote the kanji character for "Death" on blackboards and "Dead School" on the asphalt.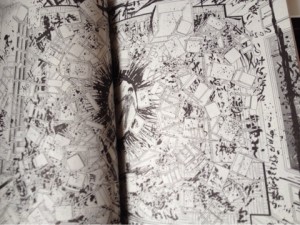 One of the girls admitted that they got the idea for the vandalism from a manga. While some point out to Flowers of Evil (惡の華) (see image on the right), online discussions also mention of another manga entitled Great Teacher Onizuka (グレート・ティーチャー・オニヅカ) or GTO. The vandalism done by the girls summed up to a whopping 490,000 JPY (5000 USD) worth of damages.
If you think this is the last you'll hear of a news like this, a pair of boys, aged 13 and 14 years old respectively, did nearly the same thing but in Kozu Municipal Junior High. At some time around 6:00 to 8:00 PM, the boys opened 15 faucets and let the waters running. Their reasoning was that they were inspired by the girls who vandalized their school.