Magi: The Labyrinth Of Magic Anime Makes A Comeback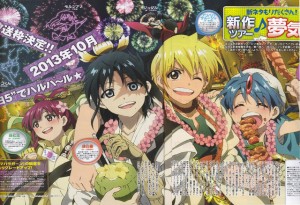 If you missed Aladdin's (アラジン) crazy antics and adventures, here's a great news for all you Magi (マギ) fans. Aladdin is coming back with a new Magi: The Labyrinth of Magic anime series! On September 22, 2013, a showcase which will feature the fist two episode will be aired. An announcement of the cast additions will also be featured on the same date.
Created by Shinobu Ohtaka (大高 忍), Magi first kicked off as a manga series published in Weekly Shonen Sunday (週刊少年サンデー) on June of 2009. The manga has now become a tankobon and is still an ongoing series with a number of currently 17 volumes as of May this year. On October 2012, an anime adaptation of Magi was released thanks to A-1 Pictures (株式会社エー・ワン・ピクチャーズ) and the series ran from its release date until March 2013 with 25 episodes in total.
If you don't have any idea as to what Magi is about yet, here's a short introduction of the anime for you. Enter Alibaba Saluja (アリババ・サルージャ). A worker for a greedy merchant named Budel, Alibaba dreams of clearing a dungeon in order for him to have immeasurable wealth and power so he can pull himself out of the financial rut he's in. His unlikely help comes from a boy named Aladdin whom he met feasting on the watermelons he was about to export.
What adventures are you expecting Aladdin to be in this time? The new season of Magi is set to be aired on Sundays. Head on down to the official Magi website, Project-Magi, for more updates and information.