Magi Appears As LINE Stamps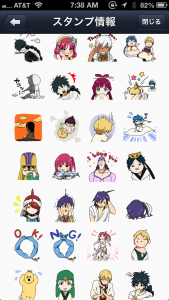 LINE is steadily gaining popularity, especially in Asia. With the upcoming second season of Magi: The Labyrinth of Magic (マギ), LINE just might invite fans by the hordes into using their awesome application!
LINE has introduced Magi stamps that are available for users for only 1.99 USD. The Magi characters are all in their chibi (ちび) forms and they could not be any cuter and funnier. There are stamps for all emotions from a sleeping Aladdin (アラジン) to Ugo (ウーゴ) puting up his arms in an "Ok" gesture.
Magi: The Labyrinth of Magic tells the story of Alibaba Saluja (アリババ・サルージャ) who dreams of conquering a dungeon in order to free himself from poverty. He meets a mysterious boy named Aladdin who has a Djinn (ジン) inside his golden flute. Together, Alibaba and Aladdin set out for a dungeon to make Alibaba's dream come true.
Voice actor Kimura Ryohei (木村 良平) bought his own set of Magi stamps and shared the news on his personal Twitter account. Ryohei, who lent his voice to Ice Magician Judal (ジュダル), said that the stamp has put his idea into a reality of Judal working out due to having too much spare time. Be a LINE user now and grab your Magi stamps!