Madoka Magica's Mami Does The Spider Man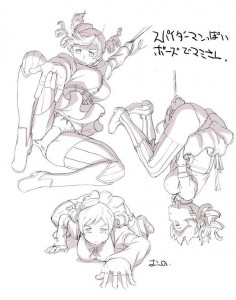 With the May 2 release of The Amazing Spider Man 2, Tsutomu Ono (大野ツトム) has released a fan art featuring Puella Magi Madoka Magica's (魔法少女まどか☆マギカ) Mami Tomoe (巴 マミ) in the signature Spider Man pose and not just one but in three different signature poses! So, what do you think? Does Mami look great as Spider Man?
Tsutomu Ono is a mangaka famous his Tiger & Bunny (タイガー&バニー) manga that was published in Viz in North America. The best part about Ono is that he also makes fan art on his spare time and shares it on Pixiv and even Twitter! His fan arts cover a vast majority of Madoka Magica including Disney Frozen's Elsa and Anna in Madoka Kaname (鹿目 まどか) and Homura Akemi's (暁美 ほむら) clothes.
The Amazing Spider Man 2 was released on May 2, 2014 starring Andrew Garfield as Peter Parker/Spider Man and Emma Stone as Gwen Stacy. The latest Amazing Spider Man movie is a sequel to the 2011 movie and this time, Spider Man faces off with the Green Goblin portrayed by Dane DeHaan. Electro, played by Jamie Fox, is also in this movie. Garfield and Stone reprise their roles from the previous movie.