Madoka Magica In The News: Kimono Clad Girls With A New Trailer And Soul Gems For Sale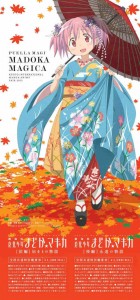 One of today's biggest anime and manga franchises are heating up the news! Puella Magi Madoka Magica (魔法少女まどか☆マギカ) has a new trailer for their second movie as well as making an appearance while dressed in elegant kimono for a special occassion. Might we add that Soul Gems (ソウルジェム) are up for grabs?
The girls of Madoka Magica appeared in the Kyoto International Manga Anime Fair in the event tickets while clad in exquisite kimono. Originally intended as a general trade fair, the Kyoto International Manga Anime Fair has become the largest trade show in western Japan. It will be open for businesses on September 21, 2012 while it will be open to the public on September 22 and 23. Tickets are sold for 1000 JPY (12.77 USD) for adults, 500 JPY (6.38 USD) for high school and junior high school students while elementary school children have free admission.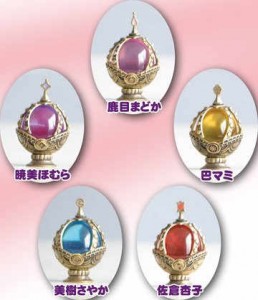 Madoka Magica collectibles, brought to you by Movic and COSPA, will be available on November! Movic will be releasing replicas of the Soul Gems, standing in 6cm in height and is made out of brass and resin. COSPA, on the other hand, will be selling silver Soul Gem rings (not shown here). The Movic Soul Gem replicas are priced at 3000 JPY (38.32 USD) while the COSPA silver Soul Gem rings are sold for 12,600 JPY (160.94 USD). Other COSPA Madoka Magica items for sale include a Homura Akemi (暁美 ほむら) and Sayaka Miki (美樹 さやか) parka, a Kyubey (キュゥべえ) tote and smooth knit hugging pillow covers. The listed items are set to be released on October except for the pillow covers which will be released on November.
Finally, we have the highly anticipated official Madoka Magica trailer. The official Madoka Magica website has released the trailer for the second movie. The first movie, entitled Gekikjō-ban Mahō Shōjo Madoka Magica Zenpen: Hajimari no Monogatari (Puella Magi Madoka Magica the Movie Part I: The Beginning Story) , will be released on October 6, 2012 in Japan while its second movie will be released on October 13, 2012. Madoka Magica fans based in the United States are in for a treat! Some theaters in their respective cities are offering a double feature of the movie complete with subtitles. Click here to check the list of the movie theaters and don't forget to check out the trailer below.