Lupin The Third's Fiat Now In Real Life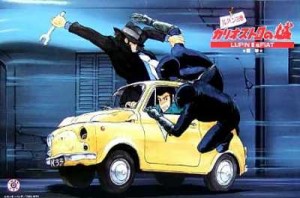 Lupin the Third's hardy little Fiat now has a real life counterpart!
An electric car modeled after Lupin's Fiat 500F has been released and its small size comes with big features.
The electric version of the Fiat 500F is an environment friendly car. It takes up to 8 hours of charging time and its range goes up to 100 miles. Buy this little Fiat and get a one-year warranty. That is, if you have, 7.8 million Japanese Yen (99 247.2 USD) to spare.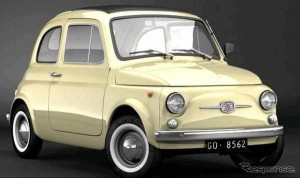 Lupin the Third (ルパン三世), the grandson of Arsene Lupin, first made his slick appearance in Weekly Manga Action on August 10, 1967 thanks to Kazuhiko Kato (加藤一彦), who is more commonly known by his penname, Monkey Punch (モンキー・パンチ). Just like his grandfather, Lupin the Third is a master thief. Together with expert marksman Daisuke Jigen (次元 大介), Lupin and Jigen make their way across the globe to steal treasures, often stopping other criminals doing more serious crimes. The duo are often joined by renegade samurai Goemon Ishikawa XIII (石川 五ェ門) and femme fatale/Lupin's love interest Fujiko Mine (峰 不二子). And who could ever forget Inspector Koichi Zenigata (銭形 幸一) who made it his life's mission to put Lupin behind bars.
Another of Lupin's famous vehicle is the yellow TF Midget but his little Fiat gets all the attention thanks to the awesome car chase scene brought to us by Hayao Miyazaki (宮崎 駿) in the Castle of Cagliostro.
Fiat is a manufacturer of Italian automobiles based in Turin, Italy and was first founded on 1899. In 2009, the Fiat held the 9th spot as the world's largest carmaker as well as the largest in Italy.