Kaiten Kenbu Rokuren! Meet The Live Action Version Of Aoshi Shinomori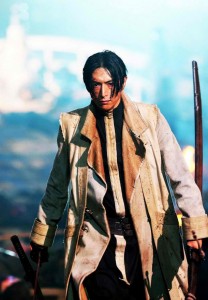 It's been more than two years since the release of the first Rurouni Kenshin (るろうに剣心 -明治剣客浪漫譚-) Live Action movie and flames of excitement are burning hotter than ever with news floating around the internet with a brand new installment of the movie. With the second Rurouni Kenshin live action movie focusing on the Kyoto Arc of the series, more fan favorite characters are making their appearances, including the deadly okashira (御頭) or leader of the Oniwabanshu (お庭番衆), Aoshi Shinomori (四乃森 蒼紫).
Japanese actor Yusuke Iseya (伊勢谷 友介) takes on the double kodachi and brings Aoshi Shinomori to life in the second Rurouni Kenshin Live Action movie. Iseya, 37, is no stranger to the world of action movies, having starred in notable films such as 13 Assassins (十三人の刺客), Casshern (キャシャーン) and even Ashita no Joe (あしたのジョー).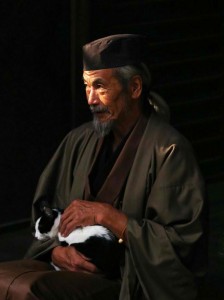 Kashiwazaki Nenji (柏崎 念至), more commonly known as Okina (翁), is also present in the movie. Portrayed by Min Tanaka (田中泯), Aoshi's former master is more than just a retired ninja – Okina still possesses his quick wit and strength even in his old age. The fight between Okina and Aoshi is well known throughout the Rurouni Kenshin franchise. Will we see a live action version of fight in the movie?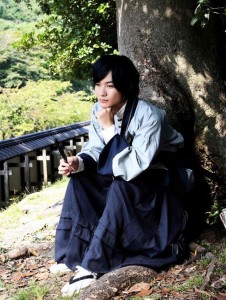 Shishio Makoto's (志々雄 真実) perpetually smiling right hand, Sojiro Seta (瀬田 宗次郎), is the first to have his photo floating around the internet. Ryunosuke Kamiki (神木 隆之介) dons Sojiro's signature blue kimono as seen on the photo on the left. This cold-blooded assassin, known for being devoid of emotion, was trained by Shishio himself is one of Kenshin's deadliest opponents.
More Rurouni Kenshin news and updates are coming your way so stay tuned!