Live-Action Take On Sukitte Ii Na Yo Trailer Ready To Set Hearts Beating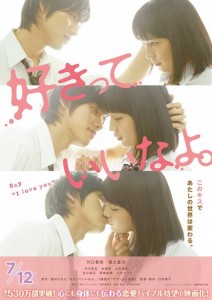 Because it's Valentine's Day, here's something every romance junkie might enjoy. Hazuki Kanae's (葉月 かなえ) popular shoujo manga, Sukitte Ii Na Yo (好きっていいなよ。), is getting a live-action film! Japanese actress Haruna Kawaguchi (川口 春奈), together with actor Sota Fukushi (福士 蒼汰) star in this movie as Mei Tachibana (橘 めい) and Yamato Kurosawa (黒沢 大和) respectively. Asako Hyuga (日向朝子) returns as the film director as well as screen writer for Sukitte Ii Na Yo as her last directorial project was for her movie entitled Presents (合い鍵) way back in 2006.
Sukitte Ii Na Yo follows the life of Mei Tachibana who has developed an anti-social behavior after a childhood event traumatized her from trusting people. Yamato Kurosawa enters Mei's life when they both reached high school and Yamato received an accidental kick from her. Yamato developed a certain fondness for Mei after that and gave her his number. When a stalker started to get under Mei's skin, it was Yamato to the rescue and he proceeded to pretend that he is Mei's boyfriend. It was Yamato's kiss that changed everything for Mei.
The trailer has already been released courtesy of the official Sukitte Ii Na Yo website so watch it below and feel your heart skipping a beat! Sukitte Ii Na Yo will be in Japanese theaters on July 12, 2014.
Asgard Anime wishes everyone a Happy Valentine's Day. Spread the love!