Limited Edition Battle Royale Poster Illustrated By Scott Pilgrim Author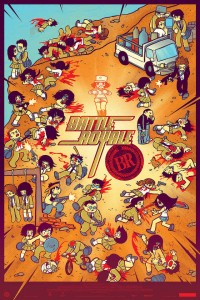 Despite the grisly story of Koushun Takami's (高見 広春) novel, Battle Royale (バトル・ロワイアル), this poster is just too awesome to miss out on. Canadian cartoonist, Brian Lee O'Malley, gives Battle Royale a fresh take with this illustration.
If you don't know Brian Lee O'Malley, it's impossible that you missed out on the story of Scott Pilgrim. Scott Pilgrim is the main character of O'Malley's graphic story with the same name. The 23-year-old Canadian slacker, Scott, falls in love with a delivery girl named Ramona Flowers. To get to Ramona, however, the Toronto-based bassist for the Sex Bob-omb must defeat her seven evil ex-boyfriends. If the story of Scott Pilgrim now sounds familiar to you, a movie was adapted from this very series in 2010 starring Michael Cera as Scott Pilgrim and Mary Elizabeth Winstead as the American delivery girl, Ramona Flowers.
Brian Lee O'Mally teamed up with Kevin Tong to come up with this cool Battle Royale poster. The poster depicts scenes from the 1999 film directed by Kinji Fukasaku (深作 欣二). In one side of the illustration, main protagonist Shuya Nahahara (七原 秋也) protecting Noriko Nakagawa (中川典子) with a pot lid. See if you can spot them.
The O'Malley-Tong Battle Royale poster is offered together with the ticket sales for the Houston Screening of Battle Royale on February 16.