Licence2Play Hosts Inter-School Challenge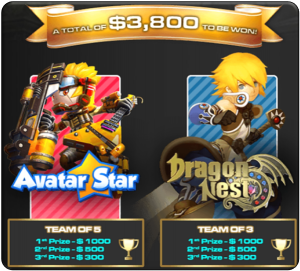 School's out and it's time to celebrate! Licence2Play celebrates with online gamer students with their latest gaming event called the Inter-School Challenge!
Hardcore Dragon Nest PVP fans will get their fix in this event. Form a three-man team with two other friends and slash, smash, stop time, conjure spirits, freeze, burn, electrocute, and explode your way to victory! First prize winners get to take home $1000 while second and third place winners will receive $500 and $300 respectively. Dragon Nest qualifiers is scheduled on November 26, 2013 at the Alienware Arena.
If you're the shoot-now-ask-questions-later type, give Avatar Star a try! Get four of your buddies and you just might snag the first prize of $1000. Second and third placers will get $500 and $300. The Avatar Star qualifiers is scheduled a day after the Dragon Nest Inter-School Challenge (November 27, 2013) at the Alienware Arena. The Finals for both Avatar Star and Dragon Nest will be on December 6, 2013 at the Licence2Play, Suntec Convention Center.
If you're the type of fan of who would rather watch and enjoy the games, there's also something for you. Avatar Star is having a design contest and the rules are simple: design an avatar using the Avatar Star customization feature and get a chance to win $100 in cash! Submissions are accepted until November 29, 2013.
Registrations for the Avatar Star and Dragon Nest are currently accepted and will end on November 24, 2013. For more information, head on down to the Inter-School Challenge page in the Licence2Play website. This event is open to all students from secondary, polytechnics, ITE, junior college and universities.