Levi Heicho Stars In Japanese Women's Magazine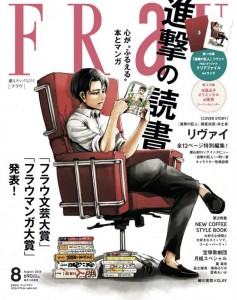 Here's something we don't see everyday: Humanity's Strongest Soldier posing for a women's magazine. That's right, Levi Ackerman (リヴァイ・アッカーマン) from Shingeki no Kyojin (進撃の巨人) is in the cover of Japanese women's magazine, FraU! So what's Levi Heicho doing in FraU?
Kodansha (株式会社講談社) has announced last month that they will have a company synergy. Shingeki no Kyojin is in the hot seat and Levi Heicho was chosen to star in FraU. With FraU being a fashion magazine aimed at women in their 20's and 30's, it's still a bit hard to imagine how Levi was picked to be on the cover of a women's magazine.
Shingeki no Kyojin creator, Hajime Isayama (諫山 創), has your back on this riddle. In the official Shingeki no Kyojin Twitter account, he has answered a few questions regarding Levi for a Question and Answer portion. A character analysis will be featured as an article in FraU as well.
Levi Ackerman is a prominent figure in the Survey Corps (調査兵団). He leads the Special Operations Squad (特別作戦班), an elite group of soldiers whose members were chosen by Levi himself. Grab your copy of the August issue of FraU with Levi on it. The said issue will be on stands on July 11, 2014.