Legendary Pokemon Makes An Appearance In Super Smash Bros.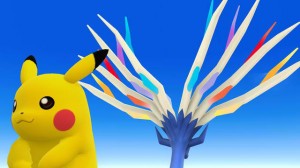 The latest entry in the official Super Smash Bros. daily pics is this smiling Pikachu with something poking at the back. Is that a colorful tree, a tail extension or is that Pokemon X's (ポケットモンスターX) legendary Pokemon, Xerneas (ゼルネアス)?
Xerneas just might be the latest addition to the Pokemon characters in Super Smash Bros. What role will it be playing in the game?
If you recently got a copy of Pokemon X and have already captured Xerneas, you might know these details already. For those who haven't yet but want to read all about it, Xerneas is the 716th entry in the Pokedex. Standing at 3.0m and at weighing 215.0kg, this Fairy Type has the Fairy Aura (フェアリーオーラ) ability. With the Fairy Aura ability, all the damages of Fairy Type Pokemon in the field are increased significantly. Xerneas was one of the five (5) Pokemon originally introduced during the January 8, 2013 broadcast of Nintendo Direct (ニソテンドーダイレクト).
Xerneas is a Pokemon that has a deer-like appearance and is blue and black in color with colorful antlers. The Pokedex entry in Pokemon X goes as follows:
"Legends say it can share eternal life. It slept for a thousand years in the form of a tree before its revival."
The latest Super Smash Bros. game will be released next year for the Wii U and Nintendo 3DS.