Latest Ultra Street Fighter IV Trailer Features East African Princess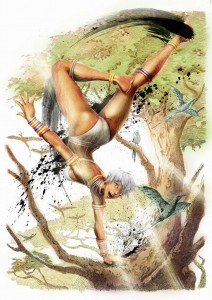 The latest addition to the Ultra Street Fighter IV (ウルトラ ストリートファイター IV) series of trailers is none other than the perpetually cheerful Elena (エレナ). The trailer for this spunky East African princess was released a week after Hugo's (ヒューゴー) Ultra Street Fighter IV trailer was uploaded on the official Capcom Youtube channel.
Elena's video spans for roughly 2 minutes, and just like Hugo's trailer, comes with an introductory commentary from Street Fighter producer, Tomoaki Ayano, himself. The video also boasts Elena's move set in this trailer.
Elena first made her debut in Street Fighter III: New Generation (ストリートファイターⅢ). The daughter of an East African tribe's patriarch, Elena dreams of studying abroad just like her father. Elena gets her wish when she travels to Japan as a foreign exchange student and eventually to France. Standing at 6'0″, Elena is the tallest female fighter in the Street Fighter roster. This flexible Capoeira fighter packs on a punch as well as an ability to heal herself.
That's enough talk from us so check out the video below and have your fill of Ultra Street Fighter IV's Elena. Vocaloid fans, if you think Elena sounds familiar, her Ultra IV voice actress is Saki Fujita (藤田咲), the voice actress of Hatsune Miku (初音ミク).