Latest Pokemon Themes To Be Sung By Momoiro Clover Z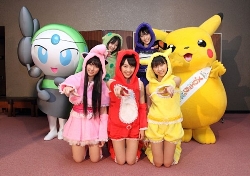 Momoiro Clover Z's Children's Day Concert entitled "Momoclo no Kodomo Matsuri Dayo! Zenin Shugo" held on May 5, 2012 at Toda, Saitama, was a huge success and to fuel the fire of excitement to the audience, the girls have officially announced that they will be providing the theme to not one, but two Pokemon shows: Momoiro Clover Z will sing the ending theme to the TV anime Pokemon: Best Wishes as well as for the upcoming Pokemon movie Meloetta's Sparkling Recital (Meloetta no kirakira recital).
Composed of five girls who are represented by five different colors, Momoiro Clover Z is made up of Reni Takagi (高城れに), Kanako Momota (百田夏菜子), Momoka Ariyasu (有安杏果), Shiori Tamai (玉井詩織) and Ayaka Sasaki (佐々木彩夏). MomoClo (ももクロ), as the band name is shortened to, had a press conference before their concert to which Takagi Reni joked. "Finally, the pseudo idols that look like us will become prepared for the two year-end shows 'Toshiwasure Nippon no Uta' and 'NHK Kouhaku Uta Gassen' by singing the ending theme of a national anime," She commented. "Everyone, look forward to it."
Perhaps one of the world's biggest media franchise, Pokemon began as a video game under Nintendo's belt. Created by Satoshi Tajiri, Pokemon spawned not only an anime and manga series but also books, toys and other merchandise that could make every collector wish they could catch them all.
MiteMite☆KoCchiCchi, their latest single which will appear as the ending theme for Pokemon: Best Wishes was written and composed by Akihito Toda and Tanaka Hirokazu respectively. For those who haven't heard of the song yet, let Tamai Shiori's comment on the song's vibe tell you about it. "It's a song that can be sung along by little kids, and since the choreography is suited for everyone as well, it would be great if the little kids danced along with us." She quips.