Kpop Girl Group Does The Sailor Moon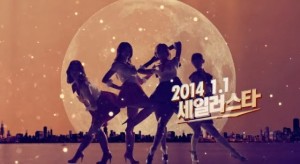 How do you say Miracle Romance (ミラクル・ロマンス) in Korean? Korean girl group Sistar (씨스타) donned the individual solid colors of the Sailor Senshi (セーラー戦士) for a commercial! Obviously patterned after Sailor Moon (美少女戦士セーラームーン), the quick advertisement that runs for barely 40 seconds doesn't only show the girls in their senshi uniform BUT they also did their take on the franchise's signature theme song.
The commercial featuring Sistar promotes 11st, an online retail shop based in Korea. The shop currently is holding a contest on who can do the best Kka Kka dance. This commercial spawned different reactions from fans and non fans alike. Some abhorred it, some found it adorable. Others even found it cute and even funny. Love it or hate it, it just goes to show how much influence Sailor Moon has over the world.
Bora (보라), Hyolyn (효린), Soyou (소유) and Dasom (다솜) completes Sistar. The girls made their debut in 2010 with their first single Push Push. It was their 2011 hit entitled Ma Boy featuring two of their members, Bora and Hyolyn as Sistar 19, in a practice video that went viral on the internet.
Sistar Check out Sistar's Sailor Moon commercial below as well as a slew of other videos.
http://youtu.be/lB09lYgaaEE
Here's their take on Moonlight Densetsu (ムーンライト伝説). What do you think?
http://youtu.be/49t1dyVn8fs
Sing with me! Oh ma boy~ Oh ma boy~ ♪♫