Know Your YouTube Idol – Oishii! Ichigo's Micchigopyon2
In the Jpop fandom, when you hear the word 'Idol' (アイドル, aidoru) what comes to mind?
I am willing to bet that it is usually 'Morning Musume' (モーニング娘。Mōningu Musume) or the AKB48. The idol industry is currently one of the highest selling musical acts in Japan. But their popularity isn't exclusively in Japan. Their fame has extended to different parts of the world. Even as far as the United States.
Thanks to YouTube and sites like Nico Nama, a new type of fandom rose from the ashes like a phoenix. They are called, 'Net Idols.' These girls received recognition when Beckii Cruel, a girl from the Isle of Man shot to fame. She became an inspiration to many girls outside Japan who dream of becoming an Idol.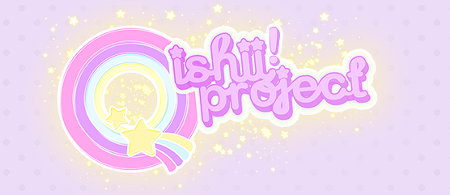 Now Beckii has decided to step behind the camera and partnered with Camille Cora to form a group called 'Oishii Project'. Camille had started a project a long time ago but it unfortunately failed to take off the ground and was scrapped. Beckii however, thought that the project had potential and decided to give it her support. The project was given a reboot and this is how the Oishii! Project was born. And from the Oishii! Project came the Oishii Ichigo, composed of Chii, Kelsey, Cherry, Popku, Jenny, Micchi, Yumi, Nyanko and Scarlett.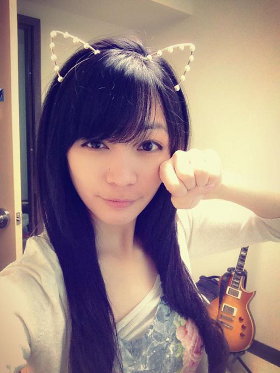 And I had the pleasure to speak on Skype with one of their Second Generation members, Micchi (micchigopyon2 on Youtube). She is a young, nineteen year old University student taking up Speech Therapy and guess what? She is pure Filipina!
I can honestly say that I didn't know what to expect from the interview. I have seen a bit of what she was like in her videos on YouTube, but I thought that she might be a different person if you sit down and talk to her. It turns out, she wasn't very different at all and it became more like a casual conversation later than an interview actually, which made the whole experience a bit more enjoyable. In case you are interested to know, yes she is as beautiful in the interview as she is in her videos.
From the moment we spoke, she was very cultured, demure and had a really good head on her shoulders. During the hour long interview, I found out that she likes anime and is a fan of cosplays and cosplayers (She is a big fan of Filipino cosplayers like, the Tuxedo Team and Alodia). Of course, she also cosplays as well.
And most of all, she is a girl that does what she does in the name of doing the things she loves.
Asgard Anime: Where did the name, Micchigopyon come from?
Micchi: In 6th grade (12 years old), I randomly came up with the nickname 'Micchi' to go by online. That is the name I've been going by ever since. And then, one of my favorite fruits is strawberry. And the Japanese word for strawberry is 'ichigo' (イチゴ, ichigo) so I mixed together the two names so that's 'micchigo.' And 'pyon' is the Japanese sound effect for jump and I just thought it was really cute and I just added it on there and that is where my name came from.
AA: How old were you when you started dancing?
M: I was about 7 years old. My parents were actually the ones who put me into dance classes and I started off learning tap dance, ballet and hip hop.
AA: I know you are into anime, many of your early dance covers were anime. How old were you when you began liking it?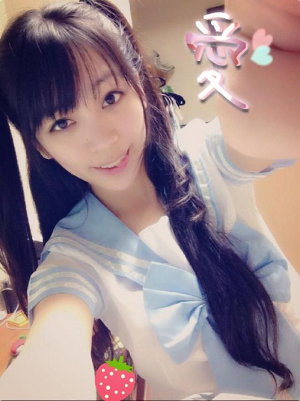 M: Well, I did grow up with Sailor Moon (美少女戦士セーラームーン, Bishojo Senshi Seramun) and Pokemon (ポケモン, Pokemon) but back then I didn't know it was called Anime. So I was again, 6th grade (12 years old) when I discovered that it was called anime, that it was from Japan and the Japanese culture.
AA: How did you first discover idols?
M: I was actually in YouTube and I was looking for fanmade music videos. And I discovered a video of an idol song that I really like and after that I began searching for more and that is how I discovered idols..
AA: Could you name a few of your favorite idol groups?
M: I like almost everybody from Hello!Project. But I guess my favorite groups would be °C-ute and Morning Musume. And I also like a boy group called, Hey! Say! Jump!.
AA: Does anyone else in your family dance or have any artistic inclinations? I know you draw. I've seen you draw. And of course I know you dance and I know you sing. So does anyone else in your family have those talents?
M: I do know that my dad used to dance a little bit but he stopped, so I've never been able to see him dance before. And since we're Filipino we like to sing a lot.
AA: Wow! I've always wondered about that. That is very true here in the Philippines so I always wondered if it is true for children raised in the States.
M: Yeah, at parties … Filipino parties there is always a karaoke machine.
AA: I guess it is true anywhere that for Filipinos it is never a party without a karaoke machine.
Next question, I know you do love what you do. You dance, you sing … and you're pretty well-known in the community. So what is the downsides of it? Are there any?
M: I'm actually not as famous or well-known as other people in the community so sometimes that really brings down my confidence a little bit. 'Cause I feel like I am not as good as everybody and that I should be better. All my fans, they really bring me up so they make me happy and they inspire me to keep doing what I love.
Also, everybody in the community deals with this … we get a lot of 'hate' from people who don't understand the culture or they think it is weird and they think we're weird for liking it. They don't hesitate to write hate letters or comments on our videos. Or email us these really mean comments. For me, it doesn't bother me at all … I don't mind or care what they say. But it can be frustrating and a lot of other people in the community are really bothered by it.
AA: How do you learn how to sing in Japanese/Korean? Do you listen?
M: Yes, you have to listen to it over and over again to get the pronunciation right and after doing it at a certain amount of time, it just comes naturally to you and you get used to the pronunciation. It's harder in Korean. I still have trouble pronouncing it right. You also have to listen to it over and over again to match the pronunciation.
AA: Do you know how to speak Filipino/Tagalog?
M: I can't (Embarrassed laugh) … my parents never taught me but I really want to.
AA: Have you ever visited the Philippines?
M: My last visit was two years ago and before that I used to go every year to visit my family over there.
AA: How was your visit to the Philippines?
M: It was fun! The people were very nice. It was really a different place to be and I just really enjoyed it.
AA: What inspired you to join the Oishii Project?
M: I was actually a fan of them for a while. Once 'Game Time' from Oishii Ichigo came out I was really impressed and I really wanted to be part of the project as well. Once the second round of auditions came, I decided to audition.
AA: Do you have any plans to go to Japan and become an idol? Or is this a hobby for you?
M: Right now, it is a hobby 'cause currently I am in the University and I am trying to study to get a job here in the States, but if ever the opportunity comes I might try to do something in Japan. I might be a little bit too old by then but I will still try doing that.
AA: Do you have a character in the group? A character like Hello!Project's Momochi or Sayumi?
M: No. I don't feel like I have one actually. I don't think I have a character, but I guess I am one of the 'dancers' in the group because I mainly do dance videos in my account.
AA: So, kind of like Ayumi Ishida of Morning Musume?
M: Yes!
AA: Have you met any members of the project personally?
M: I've met Popku from Oichii Ichigo. I met her once before I joined Oishii Project and I think it was before she joined. I can't remember … but I met her at an anime convention in Houston, Texas.
AA: What was your reaction when you found out that not only were you in the Oishii Project, you were to be one of the new members of Oishii Ichigo? Because I remember the audition was for trainees (Mini Cherries).
M: I was shocked! I didn't expect it at all! I thought that if I got in the project, I would be part of the Mini Cherries and eventually placed into a new group, but that wasn't the case. Apparently, they thought me and the other new member of Oishii Ichigo, Yumi were talented enough to skip the Mini Cherries process and join Oishii Ichigo. So as a big fan of Oishii Ichigo, I was really happy, surprised and honored to be able to join.
AA: I admit that I was actually rooting for you during the auditions, so I was really shocked when I saw that you didn't get in when the winners were announced. I was really wondering what happened.
M: I knew early on in the process when they were choosing people because they contacted me. But I had to keep it a secret for the longest time.
AA: It must have been hard to keep a secret like that!
M: It was! I wanted to tell everybody. I was so excited but I had to keep it a secret so we can surprise people when we were officially introduced (Yumi and Micchi were officially announced in Oishii Ichigo's second single, Ainano).
AA: I am really happy you got in actually. Belated congratulations!
M: Thank you!
AA: Lets say that in the future, more people decide to join the project, what are your tips for people who want to join the fandom?
M: You just really have to love what you do. Enjoy yourself. Don't do it to become popular or get attention. Just do it because you love it. Don't let anybody bring you down. Don't listen to hate comments and just do what you love.
AA: What are some tips to get into the Oishii Project?
M: As far as I know, I don't know if they're going to have any more auditions for Oishii Project but if ever they do, just go for it and take a chance but do your best and … you might get in!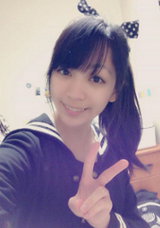 AA: What is your message to your fans here in the Philippines?
M: First of all, 'Maraming Salamat Po sa inyong lahat!' (Translation: Thank you very much to everyone!) I want to thank everybody for supporting us. Supporting the Oishii Project and Oishii Ichigo and I hope that the Filipino fans will keep loving Jpop and Kpop and just show their love to everybody and I hope that … we can have more opportunities to talk to our Filipino fans.
… and there you have it, Micchi from Oishii Ichigo. To learn more about Micchi, the project and the other members, please refer to the links below. And look forward to next time as I interview another member of the Oishii Project.
Links:
Official Oishii Project Website http://www.oishii.pro/
Official Facebook Account (Oishii Project): https://www.facebook.com/OishiiProject
Official Facebook Account (Oishii Ichigo): https://www.facebook.com/OishiiIchigo
Official Oishii Project YouTube Channel: http://www.youtube.com/channel/UCqPn9MP5bpWYCZv4AjLB3Tw
Micchi's Original Channel: http://www.youtube.com/channel/UCGyH8xoucnxOUliOYdKpEmA
Micchi's Oishii Project Channel: http://www.youtube.com/channel/UCvOasi00_npyAlJSmMjM-tg