Live Action Movie Take On Kite Reveals Trailer With A Message From Samuel L. Jackson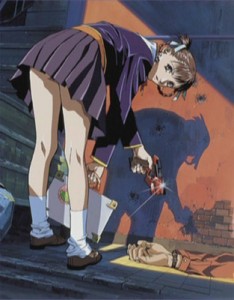 The live action take on Yasuomi Umetsu's (梅津 泰臣) controversial 90's anime offering, Kite (A カイト), is ready to roll as a 9 minute uncut trailer has surfaced on the internet since late last month. American actor Samuel L. Jackson, who was cast as Akai (renamed as Karl Aker in the movie), gave a short introductory message before the trailer starts playing.
In his short introduction, Jackson confessed that he is a fan of this anime classic and wishes the viewers to enjoy their take on the said anime. The actor made this message while on location for his next film called Big Game. On December 12, 2013, the great Yasuomi Umetsu himself shared screen shots of the trailer on his personal blog site and he even shared his thoughts about it.
Some scenes of the movie, also shown in the trailer, have faithfully followed the anime from the first scene showing Sawa's murdering of her prey in the elevator to the signature bathroom fight scene which also inspired the music video for No Doubt's Ex-Girlfriend. The trailer has drawn different comments and reactions from die hard Kite fans, some saying that the scenes shown are so far interesting while some say this would be bad.
Watch the trailer below and see for yourself if this take on Kite fits the bill. If you want to do a little comparison, we've also thrown in No Doubt's 2000 hit inspired by the anime.
http://youtu.be/aEcCkaRUTsc