Kill La Kill Special Event To Be In July Anime Expo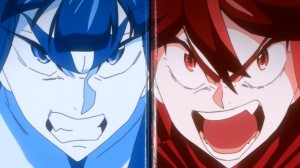 Kill La Kill (キルラキル) is already done but the mania still isn't over! As announced by Anime Expo, their July event will hold a Kill La Kill Special Event featuring the cast and crew of the epic action anime that has gotten everyone on their toes since the first episode.
The Kill La Kill event will have a special talk session featuring the people who made Kill La Kill possible. Scriptwriter Kazuki Nakashima (中島かずき) and producer Yousuke Toba will be present in the event together with SUSHIO who provided the character designer as well as the directorial duties of the chief animation. The voice actresses of the main girls of Kill La Kill will also be present, namely Ami Kushimizu (小清水 亜美) who voiced Ryuko Matoi (纏 流子) and Ryoka Yuzuki (柚木 涼香) who lent her vocal talents to Satsuki Kiryuin (鬼龍院 皐月). Singer Eir Aoi (藍井 エイル) is part of this important guest list as she will be in Anime Expo to sing for the audience! Eir Aoi sang the opening theme of Kill La Kill so there is this huge chance that she might sing that theme live on stage!
Tickets for Anime Expo 2014 have started going on sale since May 12, 2014 at 9:00 PM PST for Premier Fans while tickets for the general public have been on sale starting on May 15, 2014 on the same time as on the 12th.
Anime Expo 2014 is scheduled on July 3 to July 6 and will be held at the Los Angeles Convention Center so grab your tickets as soon as you can through the Anime-Expo ticket page! For more information, head on down to the official website of Anime Expo.