Kikaider Returns As A Live-Action Movie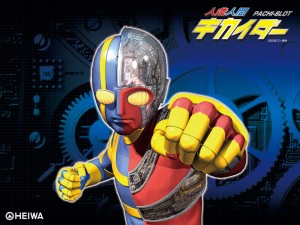 Shotaru Ishinomori's (石ノ森 章太郎) 1972 tokusatsu hit, Kikaider (キカイダー), is making a 2014 comeback as a live-action movie! As announced by Toei Animation during the 2014 lineup presentation on January 30, the 2014 Kikaider movie will go by the title of Kikaider Reboot (キカイダー REBOOT). The Kikaider Reboot stars great names in the Japanese acting scene such as Jingi Irei (入江甚儀), Aimi Satsukawa (佐津川愛美), Kazushige Nagashima (長嶋一茂), Hirotaro Honda (本田博太郎) and Ryuji Harada (原田龍二) just to name a few. Jingi Irei takes on the lead role as Kikaider.
Kikaider Reboot's story line is set in a distant Japanese future where Jiro, also known as Kikaider, was created. Dr. Nobohiku Komyoji, the very same person who created Kikaider, is the leading name on robot engineering. He oversees the ARK Project whose objectives are to create robots that solve problems that are beyond that of human capacity. When Dr. Komyoji dies, Jiro takes it upon himself to fight against the ARK robots that have gone out of control. Kikaider Reboot will be directed by Japanese director, Ten Shimoyama (下山天). If his name sounds familiar, Ten Shimoyama is known for his directorial work for the Death Note (デスノート) live-action movie series.
The Kikaider franchise started in July 1972 as a television series about an android named Kikaider who was created by Dr. Den Komyoji to stop DARK and save the world, including Dr. Komjoyi's children. The television series then spawned a manga series followed by a 13-episode anime plus an OVA with four episodes and the rest, as they say, is history.