Kenshin Himura Wanders Into The Philippines And The Rest Of The World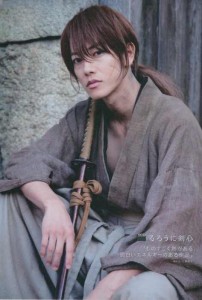 I'm just a wandering swordsman who means no harm.
Good news to the Rurouni Kenshin (るろうに剣心) fans in the Philippines! SM Cinema will be releasing the live-action adaptation of Nobuhiro Watsuki's (和月 伸宏) world famous samurai on October 17, 2012. This announcement was made on the official SM Cinema Facebook fan page on September 12, 2012 and fans are beyond excited over the news. The post has garnered more than 1400 likes and over 3200 shares in three hours after it was first published. This is a cause for celebration for Filipino Rurouni Kenshin fans after Warner Brothers Philippines commented on a question regarding the airing of Rurouni Kenshin in the said country, saying that they had no right to release the movie.
In the official Rurouni Kenshin live-action movie page, it was announced that the movie will be released in 64 countries worldwide including Germany, Taiwan and Mexico.
Rurouni Kenshin, more commonly known in the Philippines as Samurai X, has become a part of every Filipino's childhood (and even adulthood) just like other great anime titles such as Sailor Moon (美少女戦士セーラームーン ) and Yu Yu Hakusho (幽☆遊☆白書) did. Hardcore RK fans, both kids and adults alike, know the story of the red-headed samurai with the x-shaped scar like the backs of their hands. It is to that extent how much impact Rurouni Kenshin has on its readers and viewers.
It won't be long now until every Filipino, including a two-year-old toddler, will be singing to the tunes of One OK Rock's The Beginning. Rurouni Kenshin will be screened exclusively in SM Cinemas on October 17, 2012. Check out the trailer below and mark your calendars NOW!