Keiichi Arawi Draws Mai Aizawa's Cover Art For Her Latest Single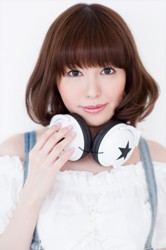 Mai Aizawa is well known in the world of anime for lending her voices to numerous anime characters as well as singing their opening themes. This time, Aizawa takes a break from the anime world and has just finished recording her new single.
Her latest song, entitled "Kiminitodoke", is written and produced by fu_mou. Manga artist Keiichi Arawi was tasked to provide the jacket art for Aizawa's cd.
Keiichi Arawi (あらゐ けいいち) is the person behind the anime and manga series entitled Nichijou (日常). Nichijou is about high school students living normal lives despite the number of odd happenings in their school. Mai Aizawa is part of the cast of the anime version of the manga; she voiced happy-go-lucky Mio Naganohara (長野原 みお) whose blue hair is tied in pig tails using small, wooden cubes. Although the anime has ended on September of 2011 with a total of 26 episodes, the manga is still an on-going series which began on December 2006 and with a current total of 7 volumes.
Arawi's art for the single is simple but attractive; the soft colors blended perfectly well with the white background. Rainbow hues were used to color the fonts of the single's title and a girl, who is a manga rendition of Aizawa, is seen on the left corner. Another illustration was also made for Aizawa's single. The second illustration shows a full bodied drawing of the manga Aizawa in front of an orange background. Her manga self was holding a peacock with a crown. Rings in individual colors of the rainbow decorated the sides.