Kaze Tachinu Is Ready To Take Flight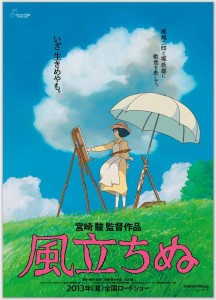 Get ready for another heart-warming story brought to you by none other than the legendary Hayao Miyazaki (宮崎 駿)! Kaze Tachinu, which translates to The Wind Has Risen, will be in theaters soon and Studio Ghibli (株式会社スタジオジブリ) has already completed the theatrical banners that were released throughout the month of May.
Kaze Tachinu's plot was based on the life of Dr. Jiro Horikoshi (堀越 二郎). Dr. Horikoshi was known for his service in World War II; he was primarily attributed to the design of the Mitsubishi A6M Zero, a model of a fighter plane which served Japan in the said war. The original Kaze Tachinu manga by Miyazaki was based on the short story written by Tatsuo Hori (堀 辰雄) with the same title.
For movie spoils, the anime version of Dr. Jiro Horikoshi will be voiced by Neon Genesis Evangelion (新世紀エヴァンゲリオン) creator Hideaki Anno (庵野 秀明). Hikoki Gumo (ひこうき雲), a song released in 1973 by Yumi Matsutoya (松任谷 由実), will be the movie's theme song.
Kaze Tachinu has made a special appearance on a Japanese morning TV show last April. You can check out the series of theatrical banners below. Kaze Tachinu will open in Japanese theaters this coming June 20, 2013.