Katsuya Terada Paints A Mural For A Japanese Museum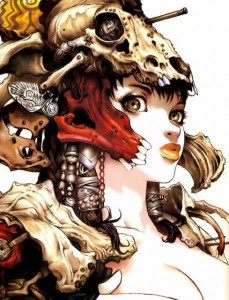 If you didn't know who Katsuya Terada (寺田克也) is, you probably didn't know that he's the main man responsible for the lush art of Blood: The Last Vampire. Recently, Terada has been invited by Japan's National Museum of Emerging Science and Innovation to do a mural for the said museum.
Terada was born on December 7, 1963 in Tamano, Okayama. The Japanese 49-year-old illustrator is highly known in the United States thanks to his art in Blood: The Last Vampire as well as in comic books namely Iron Man and Hellboy. In his home country, Terada is highly credited for his art in the video game Jake Hunter, otherwise known as Tantei Jinguji Saburo (探偵神宮寺三郎). Tekken fans will also remember that Terada designed Kunimitsu's costume in Tekken Tag Tournament 2.
While Terada considers and defines himself as a rakugai artist, his art style earned him the nickname Rakugakingu (ラクガキング), known in English as the Doodle King. The largest collection of Terada sketches reached up to more than 1000 pages! His knowledge in using CG tools that he uses withi his art only enhanced his talent even further. This gives his illustrations the completeness we all know and love.
Watch the video below and see the Doodle King in action! Get more information on Japan's National Museum of Emerging Science and Innovation by visiting their official website.