Katsuhiro Otomo Works On New Manga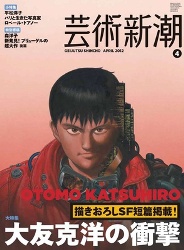 World renowned manga artist and director Katsuhiro Otomo talks about working on a new manga. Otomo, 57, is widely known for his cyberpunk anime and manga, Akira.
In an interview with art magazine Geijutsu Shincho, Otomo admits that his new manga will be the first manga to target the male population (shonen), almost 30 years after Akira was first released. His latest manga also succeeds his 2006 manga short entitled "Park".
The latest issue of Geijutsu Shincho will not only contain Otomo's exclusive interview, but will also have an eight-page colored manga entitled 'DJ Tek no Morning Attack".
Born on April 14, 1954 in Miyagi Prefecture, Otomo's fascination with movies led him to pursue a carreer in manga artistry. His dream of becoming a famous manga artist came true when his first work was published in 1973 entitled "A Gun Report". Four years after, Otomo came up with Akira.
Akira propelled him to stardom and also gained a legendary status in the anime community. Otomo is currently producing a short anime film entitled "Hi-no Youjin" or "Combustible". The anime is said to be released on June at a festival in France called the Annecy Festival.
Fans of Katsuhiro Otomo can grab the April issue of Geijutsu Shincho which will be released soon. The interview as well as the colored manga will be a perfect addition to an Otaku's collection. In the mean time, fans can enjoy Otomo titles such as Akira and others like Park, Domu: A Child's Dream and Fireball. Fans of DC comics can also enjoy Batman: Black and White #4, another Otomo creation.