Kamisama Kiss Anime Promo Features Bishonen Fox Spirit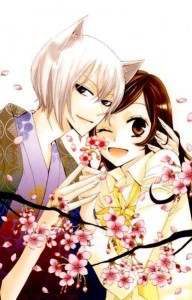 Work has gone underway for the anime take of Julietta Suzuki's (鈴木 ジュリエッタ) manga, Kamisama Kiss (神様はじめました) and the anime promo features Tomoe the fox spirit.
Kamisama Kiss tells the story of a young girl named Nanami Momozono (桃園 奈々生) who was evicted from her own home thanks to her gambler of a father. Nanami soon meets Mikage (ミカゲ), a mysterious man who is deathly afraid of dogs. After rescuing him from the dog, Nanami tells Mikage her unfortunate tale. Mikage gives Nanami his house as a way of saying thank you after rescuing him from the troublesome dog. A desperate Nanami took the offer but once she reached Mikage's house (which turned out to be a dark shrine), a fox spirit named Tomoe (巴衛) mistakes her for Mikage and nearly kills her. As it turned out, Mikage has been missing from his shrine for 20 long years with Tomoe looking after everything while he was away. Mikage has given Nanami more than a home – he bestowed on her the land god mark which makes her a god in his place.
Otherwise known as Kamisama Hajimemashita, Kamisama Kiss is an ongoing manga series which first came out in March 2008. It is serialized in the semi-monthly shojo manga magazine Hana to Yume (花とゆめ) which is published by Hakusensha (株式会社白泉社). In the anime, Suzuko Mimori (三森 すずこ) will provide the voice for Nanami Momozono while Shinnosuke Tachibana (立花 慎之介) takes on the role of Tomoe's voice actor.
What adventures will wait for Nanami as the new land god? Will Nanami and Tomoe end up together? Kamisama Kiss will air on October 1, 2012. Don't forget to check out the video below to see the anime version of Tomoe.