Kamen Rider Stronger Shigeru Araki Has Passed Away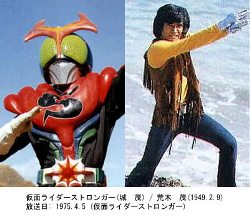 Kamen Rider fans and the whole of the Sentai fan community mourn the loss of a great actor. 63-year-old Japanese actor and musician Shigeru Araki passed away on April 14, 2012 at 5:02 pm due to aspergillosis.
He was hospitalized in Tokyo because of pneumonia-like symptoms until it was confirmed that he had aspergillosis. Aspergillosis poses signs similar to that of pneumonia. It is, however, a lung infection or allergic reaction caused by a fungi found in dead leaves, compost or other decaying foliage.
Araki sky rocketed to fame because of his role as Shigeru Jo or Kamen Rider Stronger. A Kamen Rider unique to the series, Kamen Rider Stronger was based not on a grasshopper but on the Japanese rhinoceros beetle. The fifth Kamen Rider series began in 1975 and had a total of 39 episodes and has a very compelling storyline: Shigeru Jo joins an evil organization called "Black Satan" to avenge the death of his best friend, Goro Numata. Jo, knowing that Black Satan was responsible for Numata's death, uses the powers he gained from the organization to destroy them. Later on, Kamen Rider Stronger, together with Yuriko Misaki, takes the Delza Army. The main character's name was actually named after Akagi.
Araki previously fought and won with his battle against esophageal cancer and his 2007 surgery was a success. Unfortunately, his surgery left his health fluctuating ; Araki was hospitalized earlier this month. On Friday, his condition worsened and became critical. Noriko Higuchi, Araki's wife, never left his side throughout his ordeal.
Shigeru Araki became a huge part of the Sentai community and will be forever missed.