KAI Figures Puts The Fighter In Their Street Fighter Figures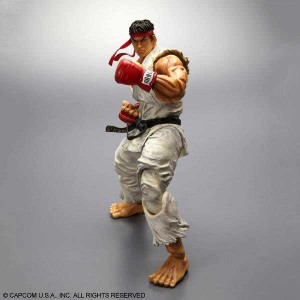 Who cares if people say we're too old to play with toys? Whether you're getting these figures as a part of your collection or you just want to take them out of their boxes and play with them, Play Arts KAI Figures by Square Enix won't let you down with their latest offering in the form of Capcom's very own Street Fighter (ストリートファイター).
What better way than to catch up on the recent Street Fighter anniversary by celebrating with these figures. The high attention to detail makes these figures worthy to be put on the highest shelf of an otaku's figure collection. The fact that these figures are highly poseable are enough for you to rip the box apart and make them do their signature poses. Did we mention that it also comes with equally detailed accessories so you can emphasize their moves? Choose your characters from Ryu (隆), Cammy (キャミィ), Chun-Li (春麗) and Akuma (豪鬼).
Street Fighter was first released in August of 1987 thanks to Capcom. 25 years later, Street Fighter still gained worldwide fame and recognition and is still enjoying its sweet success in the video game fighting ring.
The Play Arts KAI Street Fighter figures might probably be priced at 50-75 USD since KAI figures are known for their hefty price. These figures, however, are worth every penny and is definitely a must-have on a collector's Don't forget to like the official Play Arts KAI Facebook fan page by clicking here.