Just About Anything Moe In The News: A Moe Grand Prix, Name Game And Queen Of Kawaii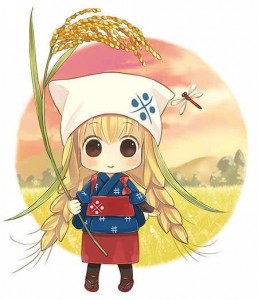 Let's face it. Regardless if you're an anime, manga or video game fan, we always fall for the cute character. Asgard brings you Just about anything Moe in the news for your dose of moe. Prepare yourself for tons of cuteness coming your way, starting off with the weekend Moe1 Granprix!
The Moe1 Granprix is a two-day event held at BelleSalle, Akihabara. Scheduled on October 13 and 14, 2012, the Moe1 Grandprix promoted local products and tourism. True to its name, the Moe1 Granprix showcased 14 moe character representing the different prefectures in Japan, including Akita Komachi from Ugo-Cho, Akita Prefecture, Komine Shiro from Shirakawa-shi, Fukushima Prefecture and an unnamed girl representing Fujikawa-cho, Yamanashi prefecture. The Moe1 Grandprix was sponsored by the Japan Tourism Agency, Ministry of Economy, Trade and Industry, and the Ministry of Land, Infrastructure, Transport and Tourism,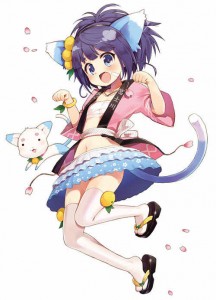 The unnamed moe character who joined in on the Moe1 Grandprix is still in need of a name! This blue and white cat girl is up and ready to promote Fujikawa-cho, Yamanashi prefecture, the only thing she needs is a name for people to remember her easily. The town of Fujikawa-cho is now accepting name suggestions for their moe character. Stumped? Here are the characters details to help you with naming Sadoru Chiba's illustrated character.
Birthday: May 25 (which also happens to be the Day of Citron)
Height: 148cm
Personality: She's tomboyish and careless. She loves festivals and other events.
Favorite Food: Fujikawayaki Udon
Hobby: The traditional Japanese comic storytelling called Rakugo and watching Fuji river.
Her age, zodiac sign and blood type are kept a mystery. If you have your name in mind, send it via email to yamanashi@infinivalue.jp. Deadline of entries is on October 31, 2012. For more information, head on down to their official Fujikawa Character website.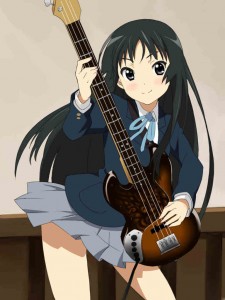 On October 10, 2012, K-On!'s (けいおん!) Mio Akiyama (秋山 澪) takes home the crown and throne of this year's Queen of Kawaii based on a poll created by Biglobe with 15,867 otaku correspondents. Followed by Mio on second place is another K-On entry with Yui Hirasawa (平沢唯) and third place is taken by Asuna Yuki (アスナ) from Sword Art Online (ソードアート・オンライン). Check out Biglobe's website to find out if your favorite moe character has made the cut.