Just About Anything Moe In The News, Vol. 3: Marriage, Sake And A Fire Station Princess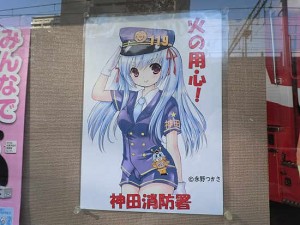 Asgard brings you a third helping of Just About Anything Moe In The News because there are moe girls for every setting and for all occasions! Starting off this third volume of Just About Anything Moe is the Kanda Fire Station girl, Yokumi Kanda.
Yokumi is the moe mascot of the Kanda Fire Station in Akihabara, Tokyo and is the latest addition to one of the many moe characters that promote Japanese establishments and organizations. Yokumi Kanda was illlustrated by Tsukasa Nagano, a Japanese illustrator known for his design for Fox Konko-Chan. Fox Konko-Chan is the moe character that promotes Foxxconn, a brand of electronic devices from Taiwan.
Read up more on Yokumi Kanda here.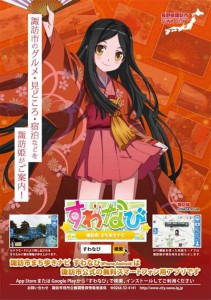 Are you an otaku who's getting married to a fellow otaku? Ever thinking of getting married in Japan? Let the presence of Suwahime in your marriage certificate make thing more anime-like and moe!
Suwahime is the moe girl of Suwa City in the Nagano Prefecture and she has been making appearances in various media in and around Suwa City, including in the Certificate of Acceptance of the Marriage Report. Suwahime is featured in two types of documents relating to marriage, the first being the free certificate of marriage and the second is the Certificates of Acceptance of the Marriage Report which costs 1,400 JPY (17 USD). The Certificates of Acceptance of the Marriage Report is proof of the validity of your marriage.
Suwahime was originally created by PM Office A, a metal mold company in Japan. Although Suwahime appears in marriage certificates, she is not available for marriage proposals.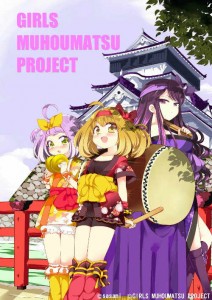 Last but not the least is a good reason to celebrate with these moe girls! Meet Makoto Shindouji, Maika Komori and Maya Blacksmith, the girls who make up the GIRLS OF MUHOUMATSU PROJECT.
The Girls of Muhoumatsu promote the local sake in Kitakyushu City, Fukuoka Prefecture. Each moe girl has their own specially designed bottle of sake, all priced at 1575 JPY (19.08 USD) per 500ml bottle. There is also a special chibi version of the girls in a 300ml bottle sold at 945 JPY (11.45 USD).
Read up more on the girls here.