Just About Anything Moe In The News, Vol. 2: Renewable Energy Models, Fitness Buffs And Moe Elections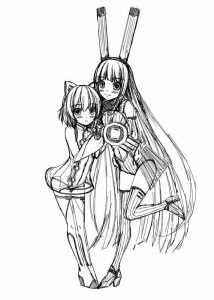 It's time to go Moe, Moe Kyun! once again with this week's Just About Anything Moe In The News, Volume 2! Kickstarting this article are Moe girls Kirara and Fuuka with a very important role to play in the field of power and energy. Anime production company LMD, together with social seeding website called WESYM, started this project to promote renewable sources of energy in Japan. They came up with the moe characters that represent solar energy and wind energy respectively.
Kirara and Fuuka were both drawn by well-known illustrator Yukiusagi who created the cover illustration for the 2010 bestseller Moshi Kokou Yakyu no Joshi Manager ga Drucker no 'Management' o 'Yondara'. With these girls ready to show Japan the importance of renewable sources of energy, they can be used for free by any local government, companies and organizations that use wind or solar energy. Check out other Yukiusagi works and information here. Read up more on Kiira and Fuuka here.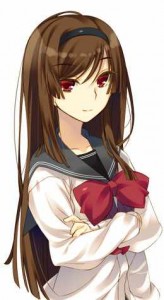 If you're the type of person who considers lifting a potato chip to your mouth while watching anime as a workout, this might get you off your couch. An application for the iOS, Android and Amazon Kindle Fire called Burn Fat With Me will be available soon thanks to Creative Freaks. Creative Freaks is up and ready to go with their December 3.0 update for the Moevation app. Get this app the minute when it is released and get Mayu Uehara to help you work out your legs. Check out the video below and see if this app is to your liking.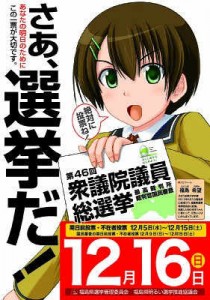 Last but not the least is this moe girl who is promoting the people in Fukushima to vote! With the House of Representatives election just around the corner, Nozomi Fukushima, the younger sister of Mirai Fukushima who appeared in these moe posters since 2010, takes her place as the new poster girl for encouraging everyone in Fukushima to vote. Fukushima has already printed out 11,140 posters featuring Nozomi and will be displaced in various locations of the area starting on December 4, 2012.