Joujuu Senjin!! Mushibugyo Anime Adaptation To Look Out For With Awesome Cast And Crew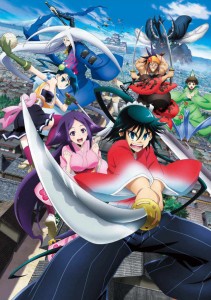 Manga artist Fukuda Hiroshi's (福田 宏) 2011 manga entitled Joujuu Senjin!! Mushibugyo (常住戦陣!! ムシブギョー 虫奉行) is getting an anime adaptation and a lot of great things to happen are expected from the series; the cast and crew alone are enough to garner praises.
The series is directed by Takayuki Hamana (浜名 孝行), the same person who directed The Prince of Tennis (テニスの王子様) and Idaten Jump (IDATEN翔), and is produced by Seven Arcs (株式会社セブン・アークス). On the art side of things, Akahiru Ishii (石井 明治) takes on the task of chief animation director with Yoshimitsu Yamashita (山下 喜光) responsible for the character design and Hiroyasu Oda (小田 裕康) for the insect design/animation director. Toshiko Kaizu (海津 利子) steps into the plate as the art director while Yoichi Kato (加藤 陽一) takes on the lead as the series composer.
If the crew is not enough to wow you yet, check out the cast! Some Hunter X Hunter voice actors have joined in on the Jojuu fray with KENN will take on the role as the protagonist, Tsukishima Jinbee, Mamoru Miyano (宮野 真守) steps in the shoes of the bespectacled Kotori Matsunohara and Megumi Han (潘 めぐみ) will bring life to Mushibugyo. Other voice actors such as Satomi Akesaka (明坂 聡美) and Rumi Ookubo (大久保 瑠美) will voice Haru and Hinachi respectively.
Even the opening and ending themes are to look out for! Japanese punk band Gagaga SP (ガガガSP), who provided the theme for Naruto, will be singing the opening song of the series. On the other hand, Iris will be singing the ending theme.
Joujuu Senjin!! Mushibugyo begins on April 8.
http://youtu.be/KNHJJO2vXTw