Japanese Virtual Car Navigation Girl Sings Wish Upon A Star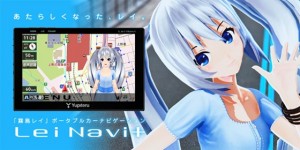 Japan has done it again! Meet Lei Kirishima (霧島レイ) and she's another virtual idol. Lei, however, is not your ordinary virtual idol. She stars in her very own navigation system to guide your way in and around Japan! Her latest song entitled Wish Upon a Star has been recently released and it's nothing short of cute.
Voiced by none other than Miyuki Sawashiro (沢城 みゆき), who also voiced Kurapika (クラピカ) from Hunter x Hunter (ハンターハンター ) and Shizuku (シズク) from Naruto Shippuden (NARUTO –ナルト- 疾風伝), Lei Kirishima was developed for a Japanese radio and telecommunications equipment company called Yupiteru (ユピテル工業株式会). Lei Navi has been given an upgrade and is called Lei Navi+. Lei Navi features more voices for our favorite navigation idol as well as brand new costumes.
Vocaloid legend, Wakamura-P (わかむらP), has lent a talented hand in the refinement of Lei. Wakamura-P also worked as co-director for Lei's Wish Upon a Star Music Video together with Toshitaka Shinoda. Wakamura-P is known for his Vocaloid (ボーカロイド) collaboration works with Livetune and Hachioji-P (八王子P).
Read up more on Lei on her very own official website and don't forget to sign up for her fan club! Watch Wish Upon a Star below and get your dose of the last song syndrome!