Japanese Snack Item Features New Batch Of Manga Artists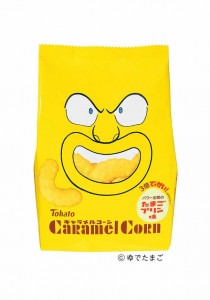 How would you feel if your snack bag is staring right back at you with huge, manga eyes? Some may find it cute, others creepy, but Japanese food company Tohato Inc. (株式会社東ハト) is back with their fresh batch of manga artists whose signature art are featured on their snack item, Caramel Corn.
The manga artist collaboration with Tohato Inc. is on its third year and over the years, have been graced by the presence of famous manga artists namely Ranma 1/2's Rumiko Takahashi (高橋 留美子), Chibi Maruko Chan's Momoko Sakura (さくら ももこ) and even Astro Boy's Osamu Tezuka (手塚 治虫)! The 2013 batch features three manga artists, namely Kinnikuman's (キン肉マン) Yudetamago (ゆでたまご), Noboru Kawasaki (川崎のぼる) from the Star of the Giants (巨人の星) fame and Ashita no Jo's (あしたのジョー) Tetsuya Chiba (千葉 徹彌).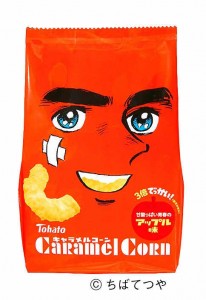 The three manga artists are assigned with different flavors as well as different colors. Yudetemago's Caramel Corn is egg pudding with a yellow bag, Noboru Kawasaki's is chocolate flavor with a blue bag and Tetsuya Chiba's is apple with the red bag.
To make things more interesting, Tohato Inc. is tripling the serving size of their latest manga artist collaboration snack items! The special edition Caramel Corn will be released on March 25, 2013.