iTunes North America Adds March To Freedom Single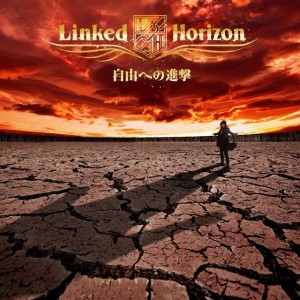 Hajime Isayama's (諫山 創) Shingeki no Kyojin (進撃の巨人) has swept the world off its feet with its compelling story of how humanity fights to survive against gigantic humanoid monsters called Titans (巨人) and the anime's soundtrack makes it even more epic and memorable. Linked Horizon, the Japanese band who took care of the anime's opening tracks, have released a single entitled Jiyuu E No Shingeki (自由への進撃). If you're an SnK fan residing in North America, good news! You can now grab the Jiyuu E No Shingeki single through iTunes!
Translated as March to Freedom, Jiyuu E No Shingeki has best Nana Mizuki (水樹奈々) and T.M Revolution's (西川 貴教) Preserved Roses and landed on the second spot in Japan's first week sale. Jiyuu E No Shingeki contains three songs, two of which are widely known to us as Guren no Yumiya (紅蓮の弓矢) and Jiyu no Tsubasa (自由の翼). These rock out songs are joined by another a third song called Moshi Kono Kabe no Naka ga Ikken no Ie da to Shitara (もしこの壁の中が一軒の家だとしたら). Each song is priced at .99 USD while the whole album costs 2.97 USD. In the album, you'll find that the two opening songs used in the anime go by their German translations, Feuerroter Pfeil und Bogen and Die Flügel der Freiheit, respectively.
Get the single, pop it in your Apple device and you're ready to go out into the world and slay Titans!