InSOMAnia 4: Samurai Soul Unleashed On March 10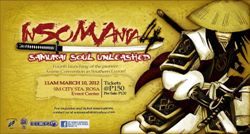 InSOMAnia 4: Samurai Soul Unleashed celebrates its fourth anniversary on March 10, 2012 with a bonanza of activities.
The event will be held in SM Sta. Rosa at the Event Center with booths, exhibits, mini games and competitions such as the Art Contest, Karaoke Contest and a J-Rock Contest. Of course, no Anime convention would ever be complete without the Cosplay Competition.
InSOMAnia is the first Anime convention to have been held in Southern Luzon, Philippines and they mark their fourth year with a samurai theme. SOMA Soshiki is actually a school organization in the University of the Philippines whose members are united under interest of Japanese culture. The words SOMA is an acronym for Sentai, Ongaku, Manga and Anime, the prime categories of Japanese pop culture.
As part of the seventh founding anniversary of UP SOMA Soshiki, InSOMAnia 4 is the group's biggest way to end a very memorable event with a bang. Tickets are available at Japanese fast food restaurant chain, Tokyo! Tokyo!, for only PHP150. Pre-event tickets are sold at PHP120.
Interested parties who are interested in joining the various contests can visit the official Facebook fan page of UP SOMA Soshiki.