Ichigo Kurosaki's Voice Actor Wins Battle Over Anaphylaxis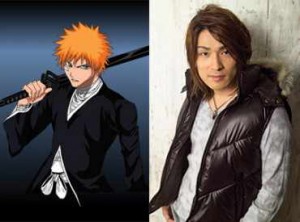 News has spread that Japanese voice actor, Masakazu Morita (森田 成一), was recently hospitalized with his life on the line. Morita, who is famously known for as the voice of Bleach's (ブリーチ) Ichigo Kurosaki (黒崎 一護), has reportedly suffered from Anaphylaxis. Anaphylaxis is an extreme allergic reaction that quickly responds after being exposed to a certain allergen.
Born on October 21, 1972, Masakazu Morita is a Japanese actor who also dabbles in voice acting. The 40-year-old Morita is widely known for his voice acting talents and is known to have voiced not only Ichigo Kurosaki, but also Barnaby Brooks, Jr. (バーナビー・ブルックスJr) from Tiger and Bunny (タイガー&バニー), Auel Neider (アウル・ニーダ) from Mobile Suit Gundam SEED (機動戦士ガンダムSEED) and even Tidus (ティーダ) from Final Fantasy X (ファイナルファンタジーX) just to name a few. His superb talent in voice acting landed him the "Best Rookie Actor" award in the Seiyu Awards last March 2007.
On February 12, Morita posted his life harrowing experience on his personal Twitter account saying that it was his first time to be hospitalized for the said affliction. While Morita kept a few details about the encounter to himself, he admitted that the Anaphylaxis episode made him fear for his life.
It is with good news, however, that Morita is now on the road of recovery and has already started work.