Ichigo Kurosaki From Bleach Turns Another Year Older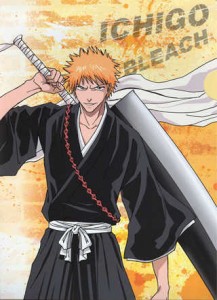 Japanese fans of the famous manga and anime franchise, Bleach, celebrated the lead characters birthday on July 15. His name is often identified within the fans as a pun for "15" since Ichigo, can also be read as "1-5". Although the anime has been ended, the manga still moves on and has even bagged the 8th place on the Japanese Manga Sales with 4,187,258 copies sold.
Born to Isshin and Masaki Kurosaki, Ichigo Kurosaki (黒崎 一護) is the eldest of three children. As a young child, Isshin Kurosaki told his son that his name means "to protect one thing" and Ichigo took this to heart thus having a great desire to protect everyone from his family to strangers from harm.
Stubborn, short-tempered and strong-willed, Ichigo gave the impression that he was hardly approachable. Beneath all that cool, uncaring persona however is a compassionate for others that he rarely shows.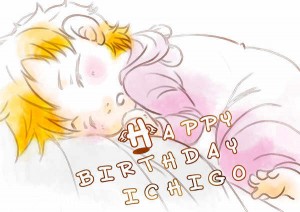 Ichigo's destiny as a Shinigami (死神) or Soul Reaper unfolded when Rukia Kuchiki (朽木 ルキア) became badly injured in a fight against a Hollow. Seeing no other option, Rukia intended to share with him only half of her powers but Ichigo absorbed nearly everything to the last drop. With his newfound Shinigami powers, Ichigo destroyed the Hollow in minutes. This came with the price however, that Ichigo has to take Rukia's place for the time being as a Shinigami since she barely has enough powers left.
Fans all over Japan, or maybe perhaps the whole world celebrated with tons of fan art.
All together now, お誕生日おめでとうございます 一護!