Hunter X Hunter Contest: Win a Trip to Singapore to See L'arc-En-Ciel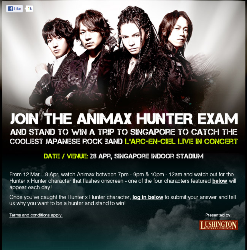 Fans of Japanese rock band L'arc-En-Ciel are in for a treat! Animax has released a contest that began on March 12 that lets the viewers get a chance to win free tickets to see L'arc-En-Ciel live in Singapore.
L'arc-En-Ciel is one of Japan's biggest and longest running rock bands that began in 1991. They have been also been known to perform opening or ending theme songs for famous anime and films such as Final Fantasy: The Spirits Within, Rurouni Kenshin and Full Metal Alchemist.
The mechanics of the contest is simple: viewers should watch Animax from 7:00 PM – 9:00 PM and 10:00 PM – 12:00 AM and they should watch out for one of the four main Hunter X Hunter characters flashed on the screen. Once spotted, viewers should head down to the official Animax website to submit their answers.
The prizes are listed as follows: three (3) winners are selected from viewers in Southeast Asia. Each will be receiving a pair of airline tickets, hotel accomodations as well as L'Arc-En-Ciel concert tickets. While six (6) winners residing in Singapore will receive a pair of L'Arc-En-Ciel concert tickets.
The concert celebrates L'Arc-En-Ciel's 20th anniversary on the music industry and is aptly named "2oth L'Anniversary Live". The live concert is scheduled on April 28, 2012 at the Singapore Indoor Stadium.
Fans of L'arc-En-Ciel should not miss this once-in-a-life time oppurtunity of winning free tickets! For more information on the Animax Hunter X Hunter contest, head here on the official Animax Asia website. Contest ends on April 8, 2012.