Hordes Of Pokemon's Poster Monster Invade Yokohama For Major Pokemon Event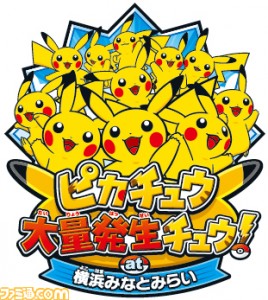 The next best thing to a zombie apocalypse just might be this. Get ready to have a cuteness overload as a huge number of ultra huggable Pikachus (ピカチュウ) from the world famous Nintendo franchise Pokemon (ポケットモンスター) make their way toward Yokohama City for Pikachu Outbreak! at Yokohama Minatomira (ピカチュウ大量発生チュウ)!
Scheduled on August 9 until the 17th, 1000 adorable Pikachus will be weaving in and out of Yokohama City to promote the landmarks Yokohama City is famous for, namely the MARK IS Minatomirai, Pacifico Yokohama, Yokohama Red Brick Warehouse, Yokohama Cosmo World, and the Yokohama Landmark Tower just to name a few. To make this event even more memorable, visitors can get limited edition goodies such as Pikachu Sunvisors, Pikachu TCG cards and a Pikachu Rookie Pokemon Tretta!
Each Yokohama landmark mentioned above and more will host separate events which are unique from one another. Here's a quick guide on those events:
Pikachu on Vacation! in Yokohama Red Brick Warehouse – Seaside cottages will be decked out in anything and everything Pikachu. The same goes for the food.
Making with Pikachu in MARK IS Minatomirai – A workshop will be held called POKEMON with YOU with the courtyard covered entirely with Pikachu.
Playing with Pikachu! in Yokohama Cosmo World – This amusement park catches the Pikachu fever and everything you'll see from the Ferris wheel to the games will have Pikachu in it.
Pikachu's Ennichi Cruise at Royal Wing – Pikachu reaches the high seas and jumps in the Royal Wing ship! Kids can enjoy a Pokemon Bingo game as well as a Pokemon carnival!
Pikachu Boards the Nipponmaru in Nipponmaru Memorial Park – Pikachu, Pikachu and Pikachu bounces in Nipponmaru Memorial Park complete with Pikachu flags and stuffed dolls.
It's a Pikachu Festival! Seiya! Seiya! in Pacifico Yokohama – Starting from 9:00 to 17:00 (with 16:30 as your last chance to join in), it's your chance to dance with a team of rolly, polly yellow Pikachu! Other activities will be on Ennichi street.
The Yokohama Landmark Tower will hold two separate events namely Pikachu's Exciting Summer Vacation! in LANDMARK and Pikachu Centre Summer Festival in Landmark Hall. The latter event will have a kids carnival as well as a Pokemon Center to fill in your collectible needs while the prior event will host a Pikachu Smile School and even a video show! Check out this quick promotional video below and book a flight to Yokohama, Japan for this way cool Pokemon event!
http://youtu.be/7aVcisdS8X0