Homura Dama! Enter Shishio Makoto!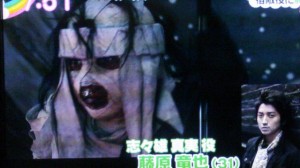 Who would have thought that the gentle Shuya Nanahara (七原 秋也) from Battle Royale (バトル・ロワイアル) would turn out to be something like this? That's the power the world of acting has as Tatsuya Fujiwara (藤原 竜也) transforms and becomes one of Kenshin Himura's (緋村 剣心) deadliest opponents, Shishio Makoto (志々雄 真実).
Japanese morning news show ZIP! has featured this latest Rurouni Kenshin (るろうに剣心) live-action movie update with short clips from both the first RK movie and the latest offering with a still featuring Fujiwara all decked out in Shishio's signature bandaged look. Fujiwara's burnt skin that shows underneath the bandage looks convincingly real it makes you wince if you look at it for too long.
Shishio Makoto is perhaps, hands down, the best villain in Rurouni Kenshin (るろうに剣心 -明治剣客浪漫譚-). Shishio is more than just your everyday rebel: shot on the head, burned alive and left for dead by the Ishin Shishi (維新志士), Shishio survived that ordeal. Later on, with the help of Sadojima Hoji (佐渡島 方治), Shishio formed the Juppongatana (十本刀) with the objective of taking down the Meiji government. Shishio's ideals are firmly rooted on Social Darwinism, more commonly known as the Survival of the Fittest. His dream of ruling the country with his anarchism was thwarted by another figure from the past, Kenshin Himura.
Seeing Tatsuya Fujiwara in the shoes of Shishio is a big break from his usual protagonist roles. Fujiwara, 31, is also known for his role as Light Yagami (夜神 月) in the Death Note (デスノート) live action films. His big acting break was the theatrical performance of the play Shintokumaru (身毒丸) directed by Yukio Ninagawa (蜷川 幸雄).
Are you ready for the second Rurouni Kenshin live-action movie? Check out the ZIP! clip below for a few seconds of RK goodness!
http://youtu.be/7VpayzDvcg8