Himitsu No Akko-Chan Live Action Movie Celebrates The Manga's 50th Anniversary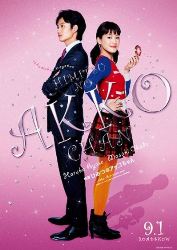 2012 is the year of Japanese Live Action Movies and Himitsu No Akko-Chan is no exception and what a better way to celebrate the 50th anniversary of the manga! The original manga, created by the late Fujio Akatsuka, pioneered the magical girl genre. Himitsu No Akko-Chan's manga ran from 1962-1965 in the monthly Japanese shojo manga Ribon while its anime counterpart ran from 1969-1970. This legendary anime was revived in many versions such as the 1988 and 1998 remakes. This year, however, Akko-chan will be stepping out of the comic books and into reality.
Ayase Haruka stars in the live action movie as the magical Akko-Chan while her love interest is played by Okada Masaki. "With the magical compact mirror and the heart-touching story of first love, I hope that this is going to become a dreamlike movie." Haruka says in an interview. And just by looking at the movie poster's silhouette, it's obvious why Akko-chan is a magical girl.
Himitsu No Akko-Chan is a story about a young girl named Atsuko Kagami, also known as "Akko-chan", who can transform into anything she wishes to be with the use of the mirror which was a given to her as a gift. In the live action movie adaptation, Akko-Chan uses her powers to transform into a 22 year old young woman in order to protect her love interest. Her transformation, however, depends on the situation.
Himitsu No Akko-Chan will be released in September 1, 2012 in Japan.