Hi-Chew Chewy Candy Gets Into Haikyu!!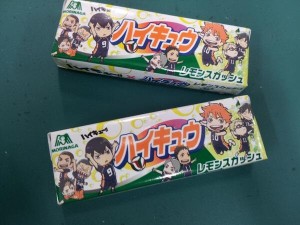 Here's another food item that you just might want to preserve for all eternity… or maybe just eat the contents and keep the wrapping for life. Morinaga & Company (森永製菓株式会社), makers of the world famous DARS chocolate, brings you yet another manga tie-in promotional confection featuring the characters of Haikyu!! (ハイキュー!!) and their very chewy candy, Hi-Chew (ハイチュウ).
This result of a clever combination of word plays was first announced on April 9, 2014 in the official Haikyu!! Twitter page. The Haikyu!! edition of Hi Chew comes in a white and green wrapper with the chibi version of the members of the Karasuno High School's Volleyball Club (烏野高校排球部) drawn around the Hi-Chew logo. Haikyu!! is a volleyball-themed manga series created by Haruicihi Furudate (古舘 春一). The manga revolves around young Shoyo Hinata (日向 翔陽 ) who is determined to become the best volleyball player despite his short height as inspired by his volleyball idol. Hinata formed a team in middle school and has played valiantly but lost to the championship favorite team. Part of that team is Tobio Kageyama (影山 飛雄). The two met again in high school but this time, Hinata and Kageyama now belong in the same team. The ongoing manga series has an anime adaptation that began airing on April 6.
The Haikyu!! chewy candy comes in a lemon squash flavor and will be available in 7-Eleven branches in Japan on May 2014.