Hayao Miyazaki's Childhood Home Is Transformed Into An Art Gallery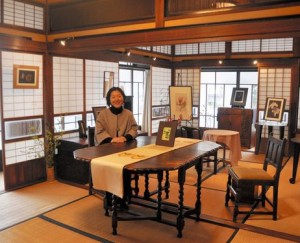 Standing at two-stories tall, an 80-year-old Japanese building now serves as a home and an art gallery at the same time. Asuko Thomas, the person who has occupied the building, had no idea that the house she was staying in had something to do with the great Hayao Miyazaki (宮崎 駿) until only recently.
Thomas, 35, transformed the building into two parts: the first floor holds the art gallery which is designed in Western and Japanese styles. The lounge can be found on the second floor of the building. Part of the building is used by Thomas as her home.
Hanna art gallery, as the exhibition hall is named, is aptly named. According to Thomas she chose to name the gallery from the words Han which means bond and Na which means harmony.
Miyazaki has sent a message to The Asahi Shimbun regarding on the house saying, "That house is very precious for me. I think the home, as well as the light and shadows in the garden, has formed some part of who I am. I'd like to visit it again someday." Miyazaki and his family fled to the same house which now holds Hanna art gallery during World War II.
If you're a big fan of Studio Ghibli, a visit to Hayao Miyazaki's childhood home will certainly make you point excitedly here and there as some parts of the house have been featured in famous Studio Ghibli works such as My Neighbor Totoro (となりのトトロ), Castle in the Sky (天空の城ラピュタ) and Spirited Away (千と千尋の神隠し).
Don't just stop by the house for the Miyazaki connection; enjoy the exhibits in Hanna art gallery. Hanna art gallery is open two weeks in a month from 11:00 AM to 5:30 PM. For more information, call Hanna art gallery at +81-(0)28-638-6123.