Hatsune Miku Helps You Get Your Eyes In Perfect Health With Digi-Eye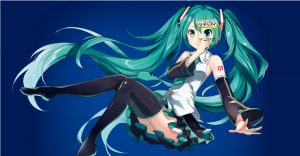 Vocaloid (ボーカロイド) sensation Hatsune Miku (初音ミク) is indeed everywhere and that includes the pharmaceutical industry! Japanese pharmaceutical company, Rohto, (ロート製薬株式会社) has teamed up with Crypton Future Media (クリプトン・フューチャー・メディア株式会社) to give you Digi-Eye (ロート デジアイ), Rohto's brand new line of eye care product featuring none other than the Vocaloid princess herself! Digi-Eye is an eye drop specially formulated to protect the windows to your soul from "blue light". Some sources of blue light are computer monitors and even your mobile phone screens so if you spend too much time on either of these two devices, then it's time for you to grab some Digi-Eye!
To help spread the word about this eye care product, Hatsune Miku became the poster child of Digi-Eye. Together with Chunibyo Demo Koi ga Shitai! (中二病でも恋がしたい!) illustrator Nozomi Osaka (逢坂望美) and Snow Miku 2014 designer Kihiro Yuzuki, the Hatsune Miku Digi-Eye package came to be. Now what's Hatsune Miku without a song or two? Her latest single,  created by Mitchie M., marched right along with the package. The coolest Digi-Eye promotion is perhaps this Smartphone app that lets you watch Hatsune Miku perform live on a box top!
How does it work you ask? Download the app, install it on your phone and run it. Now for the cool part: point your camera phone at a Digi-Eye package and Miku will, by all means, use that box as her very own stage!
Get the app through the following links. Remember, everything's for free!
iOS (Global) via Apple iTunes
Android (For users in Japan only) via Google Play
Don't have a Digi-Eye box? No sweat! Rohto has got you covered. Click here to download a printable PDF copy of the Digi-Eye package.
Digi-Eye is priced at 880 JPY (8.85 USD). Check out the video below and see how the app works!