Hatsune Miku Tells Your World!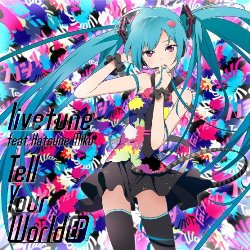 With her torquoise-colored floor length pig tails and cute appearance, Crypton Future Media's world famous Vocaloid Hatsune Miku has become the latest model for yet another huge franchise: Hatsune Miku's latest single "Tell Your World" has been featured in Japan's Google Chrome ad.
The ad is simply about inspiration that leads to creativity.
Although Hatsune Miku looks like an anime character and appears as a guest on many anime and manga titles, she is not an anime character. Hatsune Miku is a singing synthesizer software in which users are able to make her sing any song imaginable just by entering the lyrics and setting the melody. She is illustrated by KEI who was tasked to draw an android diva based on Yamaha's blue-green colors and is a popular cosplay choice.
Here's the ad:-
Although this song is available in 217 countries worldwide via the iTunes Store, it is mentioned in the Hatsune Miku official Facebook fan page that this song is not available in all iTunes Stores but fans can buy the song on wasabeat.com instead. Listen to the full version of Tell Your World here:
http://www.youtube.com/watch?v=rRywEVSrJWM
So what's next for Hatsune Miku? Stay tuned to find out!